Workers Compensation Claims Management Software from Recordables
Workers' Compensation Claims Management Software from Recordables provides comprehensive reporting, tracking and analysis through the TrackComp application. Obtain comprehensive injury claims management from incident reporting through completion.
Workers Compensation Claims Management Software
As a workers compensation claims management software solution for more than 25 years, TrackComp helps organizations manage workers compensation claims, with many benefits including:
Report Workers Comp Incidents from Anywhere: The Recordables' workers compensation claims management software incident Portal provides a user-friendly way to enter an incident report from anywhere using any device. A customized workers' comp incident form tailored to your organization can be completed in under 30 seconds and automatically routed to the appropriate claims manager or adjuster for review.
Collaborative workers comp claims management software: After an original incident is reported, safety professionals and field users can add pictures, videos, medical records and supplemental information to an incident or claim.
Clear, comprehensive reporting of workers comp claims: See a holistic view of financial data based upon individuals, locations, policies and other data points, providing a clear picture of payments and losses.
Claims Management Dashboards-provides access to all content associated with a claim from within the workers compensation software app.
Automated reporting of Lost Time Days and Work Restricted Activity from workers comp claims.
Automated reporting of restrictions organized by category.
Reporting for near misses and repeaters  as well as claims.
Role based security allows adding or removing reporting fields for specific users and roles.
Predictive Analytics: Using  TrackAnalysis you can leverage modeling, patterns, and trends of workers compensation claims activity. TrackAnalysis identifies risk, patterns and makes recommendations through analysis of past data, allowing for better decision making.
Link workers compensation claims between programs to easily connect multiple claim types to different injuries.
Track policy limits with alerts when approaching limits.
Interactive diary notes provides users with additional places for notes along with alerts, reminders and trigger notifications.
Create customized workers compensation claims management reports to clearly understand all data related to claims. Reports can be exported in 15 different formats as well as e-mail and can be scheduled.
Check writing module available for disbursements directly from TrackComp workers comp software.
Section 111 Medicare / Medicaid reporting is also available as an option.
Workers Comp Claims Management Software
Workers comp claims software from Recordables is used to organize, track, and monitor claims providing the ability to oversee the full life cycle of claims. With TrackComp workers comp software provides:
Workers comp claims management software screens to manage cases from start to completion.
Work status screens to manage return to work programs.
First aid and report only screens to manage minor workers compensation incidents.
Interacts with various bill review programs.
Medical surveillance module available upon request.
Access to Performability, a return to work form which provides categories of options to ensure a common understanding for treatment.
Comprehensive Workers Compensation Claims Management Software
As a comprehensive workers compensation claims management software,  TrackComp helps you efficiently manage workers compensation cases, including opening a new workers compensation claim, monitoring claim progress, adding notes, linking to other claims, overseeing costs, as well as monitoring patterns for claims to prevent future cases from occurring. TrackComp also serves as an OSHA claims management software.
Workers compensation claims management app
The Recordables incident portal serves as a workers compensation claims management app, making it possible to start, update, and file a claim on a mobile phone or tablet. Claims can be started remotely, and automatically routed to appropriate users for review and processing.
Workers Comp Claims Management Software with Predictive Analysis
Using predictive analytics, TrackComp can anticipate workers comp leave based upon prior activity that leverages Recordables risk prediction algorithms. This makes it possible to reduce risk by identifying and predicting workers compensation claims before they occur.
Trend Analysis integrated into Workers Comp Claims Management Software
TrackComp provides you with a clear understanding of Workers Comp claims across your organization through comprehensive tracking of all leave requests. Easily monitor and track all Workers Comp claims in a single, unified system and identify trends in Workers Compensation claims.
Workers Compensation Tracking Software
TrackComp goes beyond Workers Comp claims management tracking, and serves as an effective, customizable, and easy to implement workers compensation tracking software. It provides an effective safety tracking software for small business and large organizations, providing options for incident reporting, management, tracking, and analysis. Contact Recordables for a demonstration of this comprehensive Environment Health and Safety (EHS) Software.
Workers Comp Claims Management Software with Occupational Health Management
As an Occupational Health Claims Management Software, organizations can depend on TrackComp to provide simple reporting, easy to understand reports, and comprehensive analysis of Workers Comp and other claims that impact your business or organization.
Workers Compensation Dashboards
Workers compensation dashboards offer an effective way to view current, actionable information about workers' compensation claims. Recordables workers comp dashboards provide drill-down capabilities, offering access to multiple levels of data, from a broad overview of all workers comp claims, to details about individual claims. Workers comp dashboards are available as part of Recordables workers compensation claims management software.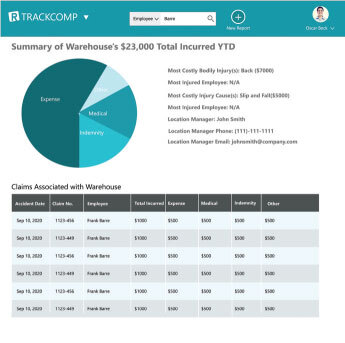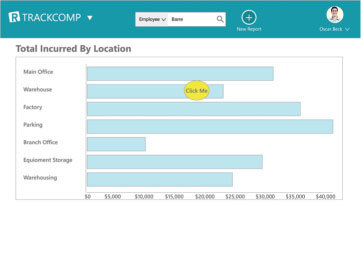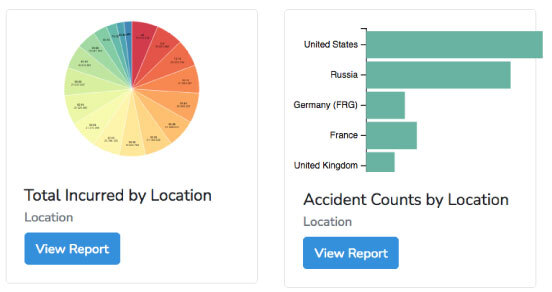 Factors to consider when choosing workers comp claims management software
Workers comp claims management software can vary significantly, including large differences in costs, features, technology, and service. When evaluating workers comp claims tracking options, one key question to understand is the hosting environment to make certain it is reliable and scalable. Additionally, it is important to know how much storage is included, how often the infrastructure is updated, and what certifications are achieved each year. Recordables uses best-in-class platforms, storage, and keeps systems up-to-date and secure.
Data backup is equally important for workers comp claims tracking. Recordables uses redundant back-up that occurs in a different location so that workers compensation claims data is always safe and can be recovered.
Because workers comp claims contain Protected Health Information (PHI), any claims management solution should follow established protocols and standards for privacy, such as HIPPA. Recordables undergos annual audits to ensure HIPPA compliance in its handling of data. Additionally, using a Business Associate Agreement (BAA) as a separate agreement when handling PHI data is an available option.
The cost of a workers compensation claims management solution should be clearly negotiated up-front to define a multi-year costs, as well as any additional costs that may be associated with startup, data import, or configuration. With Recordables, all costs are clearly labeled and defined at the start of an agreement so that there are no surprises.
The features and functionality of a workers comp claims management solution should specify the diversity of features, including whether it includes sections for safety and case management. The ability to include linking to liability insurance claims or disability claims should also be considered, as well as the ability to transfer loss run data from a third party on an on-going basis. Similarly, integration with HR payroll systems may be needed and should be considered when evaluating options. Recordables checks all these boxes, providing options to meet the needs of all sizes of organizations.
Recordables uses detailed planning and our 20 years experience as a provider of workers comp claims tracking solutions to make certain any system we provide meets the needs of your organization.
Understanding workers compensation claims management software incident intake portals
An incident intake portal is a critical first step in any workers compensation claims management software. The intake portal is used by supervisors to start the process of reporting an incident or claim immediately, right from the place of an accident. An effective incident portal can be accessed on any device – whether a laptop computer, iPad, or mobile phone. Once the incident or claim is reported it immediately alerts appropriate staff of the claim who can then review the data and make a determination of whether the incident or claim should proceed.  This process records dates and the workflow, providing tracking for the decision-making process. If an incident or claim is not acted upon within 24 hours, the system alerts appropriate staff, and can escalate the process based upon workflow rules.
A combination of a well-designed incident intake portal, workers compensation claims management software, and proactive safety process can provide substantial cost savings for many organizations, while improving worker safety.
How effective workers comp claims management software saves money and time
Improving the timely reporting and management of claims can reduce costs and fees. The total cost of preventable work injuries in 2020 was $163.9 billion according to the National Safety Council. https://injuryfacts.nsc.org/work/costs/work-injury-costs/  Wage productivity loss, administrative expenses and other factors contribute to the high cost of workplace injuries.
A savings of 10% per year on insurance claims is a real possibility with effective incident portal, claims management, and safety process. Proactive initiatives to address, understand, and reduce claims can provide a significant positive impact to any business or organization that handles insurance claims.
When workers compensation claims management software provides cost savings
There are several scenarios when workers compensation claims management software provides a significant benefit of lowering insurance costs. The following provide examples of when claims management software is most helpful at reducing costs:
  When insurance liability claims are not currently managed in a timely manner throughout the life of a claim.
  When using a third-party to manage claims without making use of the data in an independent claims management system that is separate from the provider.
  If significant staff time is spent manually tracking and managing all aspects of a claim?
  When an incident intake portal is not being used to immediately capture accident data at the time of occurrence.
(312) 961-7894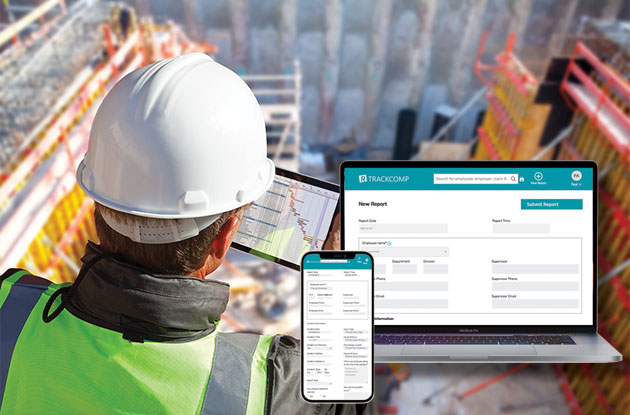 Report workers comp incidents from anywhere
The Recordables' workers comp incident portal provides a user-friendly way to enter an incident report from anywhere using any device. A customized workers comp incident form tailored to your organization can be completed in under 30 seconds and automatically routed to the appropriate claims manager and adjuster for review as part of the workers comp claims management software.
Your workers comp claims management software data is secure
All Recordables workers comp claims management software applications meet or exceed established standards for network security and regulatory compliance. Learn more about our network security.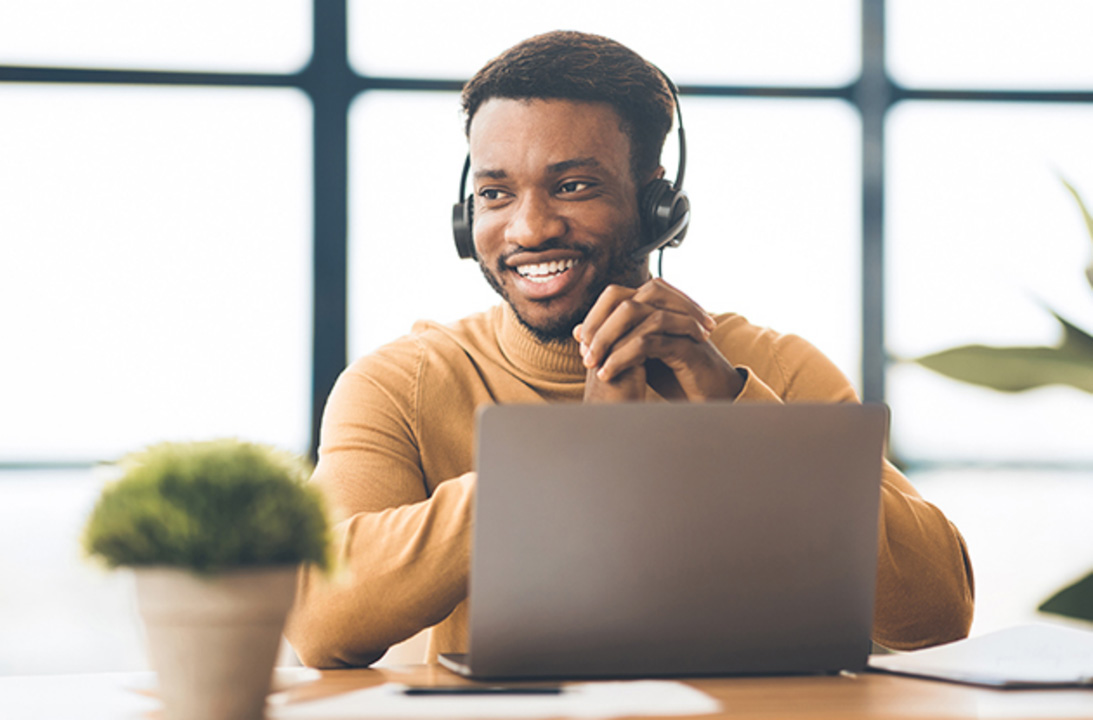 Workers Compensation Claims Management Software Client Testimonials





I have been using many different types of Workers' Comp software in my role and I must say that TrackComp is one of the best. It is very easy to navigate around and user friendly. I give TrackComp five stars because of the quality and service. I am able to run my OSHA Logs in a matter of seconds. The Claims Overview screen is wonderful and I was able to have columns added that suited my purpose. The President is also right on when it comes to service. If I have a problem, question or suggestion he calls me very promptly and handles it. I have never had the customer service with any other software company like this. They treat you as if you are their only customer.
Insurance and Safety Specialist
City of Rock-Hill





Recordables has been a valuable partner of the City of Elgin since 2002. I use TrackComp frequently to track workers' compensation claims data, create forms for the State of Illinois and prepare annual OSHA reports. The claims management software is straightforward and easy to operate and it offers many time saving features. The Recordables team is dedicated to providing excellent service and value to their customers.
Risk Management Assistant
City of Elgin





For over a decade, Recordables has been supporting the City's needs for Workers' compensation and liability claims. TrackComp & TrackAbility provides ways to categorize, track and report on employee workers compensation and liability claims and CertAdvisor is used for tracking and managing certificate of insurance. In addition, Recordables has supported the integration of other systems as well. Recordables is a five star company with exceptional customer service and support.
I.T. Analyst
Large City Government in North Carolina





We have had the pleasure of working with Recordables TrackComp workers compensation claims management and TrackAbility claims system since 2012.  During the past decade, our pool, as well as the industry in general, has seen many changes and challenges.  In every situation Recordables has always responded quickly and their willingness to modify or adapt their systems to whatever presents itself is unsurpassed.
Director of Information Technology
Large public entity self-insurance pool in Texas